Spider Vein Removal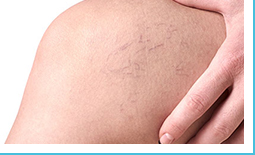 Get great looking legs with laser spider vein removal.
Each year, millions of women and men seek treatment for unsightly spider veins. Our laser spider vein removal system provides a safe and effective, non-surgical treatment option for the removal of spider veins. Our advanced spider vein removal treatments deliver a precise dosage of energy to each vein, with minimal risk to the skin.

Benefits
Get rid of redness — reduce or completely eliminate any unwanted redness.
Avoid injections — unlike other treatments, you won't need any injections to get results.
Rejuvenate skin — collagen is targeted, along with overall elasticity, to tighten skin and give a more youthful glow.
What to Expect
5-10 min. — appointments are quick and easy.
10 days — veins will lighten within 10 days.
Redness — may experience some redness for a couple hours after the procedure.
Avoid direct sunlight — protect your skin by staying out of the sun for a week after treatment, or using sunblock when necessary.
---
Before & After