Microdermabrasion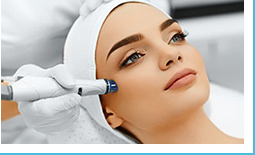 As we age, our skin's ability to naturally exfoliate diminishes.
Microdermabrasion provides vigorous exfoliation that gets rid of impurities on the surface of your skin revealing fresh, glowing skin. A less aggressive approach to laser skin resurfacing, microdermabrasion yields its best results from a series of treatments and typically in conjunction with chemical peels and facials.

Benefits
Get rid of fine lines — rejuvenate skin and say goodbye to those pesky fine lines.
Fast results — you should be able to notice a difference immediately after the treatment.
Rejuvenate skin — exfoliate dead skin cells to reveal a brighter and more youthful glow.
What to Expect
Some redness — a bit of redness is not uncommon after your procedure, and may last for several hours.
Avoid direct sunlight — protect your skin by staying out of the sun for a week after treatment, or using sunblock when necessary.
5-10 min. — our appointments take hardly any time.
---
Before & After